"Read our customer testimonials, enjoying their time riding our ATVs and mini dune buggys near the beach at Sand Lake Dunes in Oregon"
"Tell us about your fun"
When you come in from riding, hair all ruffled up from your helmet, we notice one thing very common. It's a smile of excitement on your face. That's worth alot to us and it's one of the reasons we love what we do.
You can be one of the first of our many customers to give us a testimonial! This will help others make an informed decision to use our rental service for ATV's. Please Add your testimonial now.
"Here's what our customers say"
(I opened a handwritten Thank You card from Mandy and Chancey)

Rick,
Chancey and I wanted to personally thank you again for your service and humble hospitality. You are so warm and inviting and we thoroughly enjoyed riding on your ATVs. Thank you so much again and we look forward to visiting in the future!

- Mandy and Chancey
All renters read this:

First off, these are the best taken care of ATV Rentals on the coast and Rick is the best guide to prep you for your journey! You won't meet a nicer person with exceptional knowledge of his business and the surrounding riding area. They have all the best gear to be safe and enjoy a wonderful experience. My wife and I and my son (11 yrs.) decided to make this our first stop on our way to our vacation down the Oregon Coast. The weather was perfect the riding area was not overcrowded and the experience was exceptional. My son can't wait for the next time! My wife, who doesn't get that jazzed about stuff like this, she even had a great time and it really gives everyone a chance to take a break from life and all the hassles. We couldn't stop talking about the fun we had there on the ATV's for the rest of the vacation. Thank you Rick for making our family vacation have a 4-star attraction!!
We will be back to rent from you and can recommend to all that are looking to rent ATV's this is the only place you should go if you want to have a safe and fun riding experience with well taken care of equipment anywhere on the Oregon Coast and have memories that will last a lifetime!

Thank you for the great time!

Michael,Shaun and Matthew Haner
pictures (1 and 2)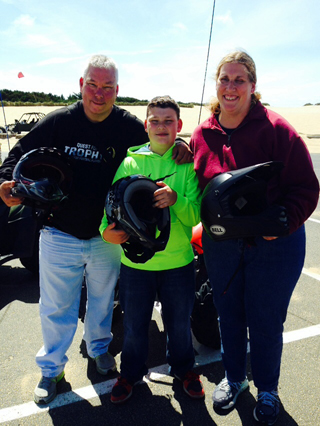 to possible renters-

My family and I rented 4 vehicles from Rick and we had a blast. We were very impressed with the newness of the vehicles and how well they were maintained.
Although we have extensive dirt bike experience back east, the machines were very well suited to the environment so we were able (almost!) to ride like pros in no time. The ATVs are very user friendly and I would encourage anyone that might be a little apprehensive to give it a try. Rick is a very down to earth kinda guy and makes the whole experience enjoyable.

Peter Haviland Vermont
I want to thank you for being such a great place to rent ATV's from! We had 3 newbies (in terms of riding in dunes) and 2 veterans and we really appreciated the great machines, information and directions regarding Sand Lake, and all the accessories to go with. We had SO MUCH FUN at Sand Lake!!!! We packed our lunch and took a quick break to eat (would recommend to everyone to eat with a view of the ocean vs the parking area) and video taped a bunch of our antics and - in general and just had a good, clean BLAST for four hours. As an ATV virgin, I can tell you, I was not super stoked to do this (giving in to husband and BIL requests) but I may have had more fun than them, in the end. We all thought the machine were in great shape, they all ran perfectly and everything was easy and fantastic from beginning to end. THANK YOU for the fantastic memories!

We'll recommend you to everyone we talk to. : )

heather, chris, matt, janine and bob
Hi Rick and Ann,

I just wanted to drop you a note about our rental on Monday. We all had a great time and Brayden is still saying the dune buggy was the highlight of our weekend stay. Thanks for fitting us in on such short notice.

Kind Regards,
Rob, Teresa, Brayden (5) and Noah (2)

http://www.caringbridge.org/visit/braydenportman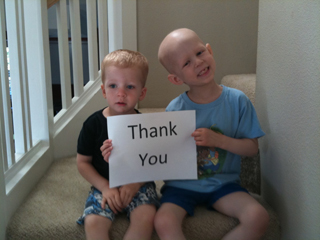 Hi,

We had the coolest buggies on the beach and a hot time in the sun and the sand racing along next to the surf. Thanks - it was worth the trip all the way from Pennsylvania and down that long winding road to the Oregon Coast. One of the best experiences of our northwest adventure.

Thanks again,
The Bradley Family


p.s. a few pictures are attached (1 ,2 ,3)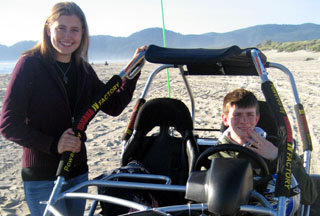 Hi,
Thanks again we really enjoyed the ride. We had a blast and are planning to rent again.

Bob and Judy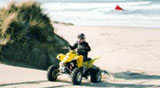 Hello Rick and Ann,

I really enjoyed using your ATV Sunday. The 400 was great and it never let me down, especially the innovative desert tires. It took a few days to get over the soreness, but it was a blast and I'll probably go ATVing again if I'm in the area. FYI that was the first time I rode a quad and I think I'm lucky to have learned how to ride one in such a wonderful location.

Thanks again,
Leo
We had a great time. We are headed back to DC now, but our visit to your playground was a nice break from our work.

Nicholas
I would like to thank you for all of your support in getting us outfitted for a great time at Sand Lake. It was the first time for our family to rent ATVs and our first time at Sand Lake. You were so helpful in getting us outfitted, offering instructions and giving us directions. The ATV's worked great. When we go again, I will for sure be back in contact with you and we will do it all over again.

Again Thanks
Terry, Mike and Blake
Sandlake Tsunami ATV Rentals provided great service, reliable machines, and a good old fashioned friendly way of doing business. I will definitely stop by again the next time I'm in the neighborhood with my 8-year-old son. He absolutely loved the mini-ATV and it fit him just right!

Nancy and Paul Travis, Bainbridge Island, Washington
Rick,

We wanted to let you know how much we enjoyed the quads. After a full week of activities on the Oregon Coast, the entire family voted the Sandlake Tsumani Rental #1.

Thank you
The Dittmer Family
"We are now accepting rental reservations.
Just call 503-965-6572."