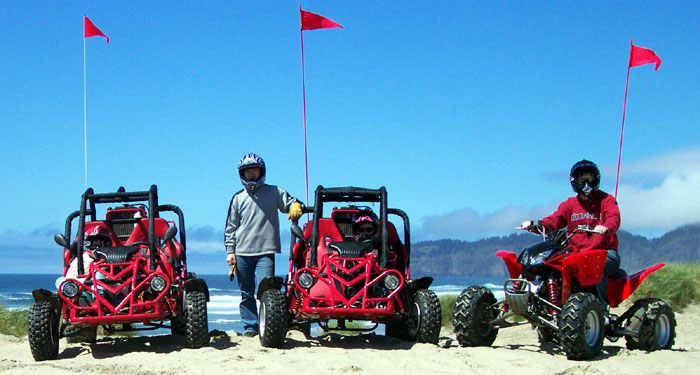 When you're planning your vacation along the Oregon Coast, don't miss Sandlake Dunes! It's along the Three Capes Scenic Route just 6 miles or 12 minutes north of Pacific City. You can rent a quad or a mini dune buggy from us and explore the Sandlake Dunes at your own pace. Enjoy a morning cruise along the trees or pose for an afternoon picture along the breathtaking beach. We're family friendly too! Our smallest quads have remotes and leashes to help parents keep a safe pace. Family fun for everyone.
Our ATV and Buggy Rentals:
We are just down the road from the Sandlake Dunes and have quads and mini buggys to take to with you to the riding area. We provide the use of a trailer, helmets and goggles.
Dunes:
Sandlake Dunes Recreation Area includes 1076 acres of the Siuslaw National Forest. The riding dunes and beach are between Cape Lookout (north) and Sandlake Estuary (south). The Pacific Ocean is the beach-riding boundary (west). Galloway Road and the Three Capes Scenic Route Road are borders to the east.
Photo opportunities:
The views are spectacular from the beach and way up high between the first and second bowls. That's where you can see Cape Lookout, Cape Kiawanda and Haystack Rock, all along the Pacific Ocean. The sunsets from these views are marvelous. There is also a beautiful shoe tree that many riders have contributed to. Swooping trails, donut trees, washboards and mogals. There are wonderfully crafted sandrails that visit the dunes now and then. Many sandlake duners are climbing or jumping the dune crests, which would be some cool photos. Look for pelicans and seagulls, standing together in the shallow surf, fishing. Untouched Dunes are across the East end of the riding park with the forest and mountains expanding beyond.
Nearby Towns:
Pacific City and Tillamook are the nearest large towns. Sandlake has a quaint little store and gas station.
Camping:
There are many camping accomodations and RV parks within a few minutes drive of the dunes. Thousand Trails is situated within a very beautiful strip of old growth forest along the Tierra Del Mar beach. Cape Kiwanda RV Park and Resort is next to to the scenic Haystack Rock and Cape Kiwanda. They're the campground with all those bunnys. Tomichi Village RV Park is nearby. Woods Campground is right along the Nestucca River.
Sand Camping:
If you don't mind the purring of atv's and some very friendly squirrels, Sandlake Dune Recreation Area has a wonderful camping area with direct access to Sandlake Dunes and the beach. There are spaces for RV's and spots for tents. You can even camp or park out on the sand.
To make your reservation for buggys or quads
Call 503-965-6572 anytime